Five ways technology collaborations are helping save rhinos
On World Rhino Day, we're celebrating our collaboration with passionate partners who are driving proven and innovative technology solutions to protect rhinos against poachers, monitor their habitats and create safe havens where rhinos can roam free. 
---
Five majestic species of rhino are left in the world: African Black, White, Javan, Sumatran and the Great one-horned Indian rhino. But they're all facing extinction as their numbers continue to decline. South Africa is home to almost 80% of the world's rhinos, but it is also a hotspot for rhino poaching, driven by demand from Asia, where horns are used in traditional medicine for their supposed therapeutic effect. Across South Africa alone, 11,000 rhinos have been poached since 2008. With less than 6,195 Black Rhinos estimated to be left in Africa, this rate of poaching across the continent means this iconic species could go extinct in just five years.
Here are five ways we're working together to help save rhinos:


1) Equipping ranger teams with game-changing tools to stop poaching

Together we're helping safeguard 5,000,000 hectares of wild ecosystems, home to the Black and White rhino. With the support of NTT Ltd and Cisco, we've installed Reserve Area Networks across Sabi Sand Nature Reserve, Lewa Wildlife Conservancy, Great Fish River Nature Reserve and six new conservancies with Northern Rangelands Trust. This infrastructure connects thermal long-range cameras and LoRa sensors that provide intelligence to a central operations room to track the movement of people across the reserve in real time. This early warning information is dramatically helping teams protect the rhino from poaching threats. 
In the first two years of deployment, this technology together with other methods and successful management in Sabi Sand has achieved a 96% reduction in poaching.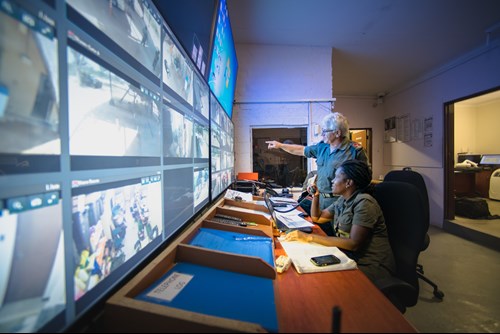 Furthermore, this year in Sabi Sand Nature Reserve alone, 12 poaching incursions have already been thwarted with the help of Connected Conservation solutions. If each incursion potentially equals a rhino death, at least 12 rhinos have been saved from harm.
Our most recent deployment is in Madikwe Game Reserve - a key target for rhino poaching. Madikwe has been equipped with long-range thermal cameras to monitor boundary and fence lines close to poaching routes. Since deployment, every poacher who passed in front of the thermal cameras was immediately spotted and stopped in their tracks.
2) Ensuring suitable rhino habitats, with satellite monitoring
We're capturing vital rhino habitat information from space thanks to our partnership with Airbus Foundation. Using high-res imagery donated from the Airbus Foundation, we're mapping water resources, human settlements, grassland cover, road encroachment and invasive plant species to help inform rhino conservation management plans. This is helping Madikwe Game Reserve and Northern Rangelands Trust make better-informed decisions in adapting to climate-driven events, alongside changing natural resources and human pressures.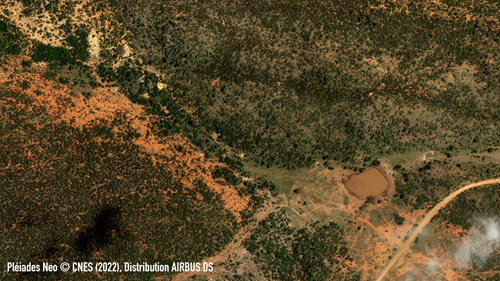 This new visibility from space is also enabling Madikwe Game Reserve and Sera Wildlife Conservancy to understand where new resources are needed within the park to deploy and relocate security teams and anti-poaching technologies to protect weak spots against poaching threats. Sadly in Madikwe, this imagery has also aided in detecting deceased rhinos from space, assisting criminal intelligence in the poaching incident investigation.
3) Monitoring rhino health during drought conditions 
High-res wildlife monitoring PTZ Cameras are delivering live stream videos from five remote watering holes to monitor rhino health for the Northern Rangelands Trust (NRT). 
Dimension Data Kenya (part of NTT Ltd) helped install and connect these live streams, providing live video footage of visiting rhinos to watering holes in Sera Wildlife Conservancy. This is enabling NRT to make quicker rhino health and weight observations, better informing their decision-making on food and water interventions during unprecedented, challenging times.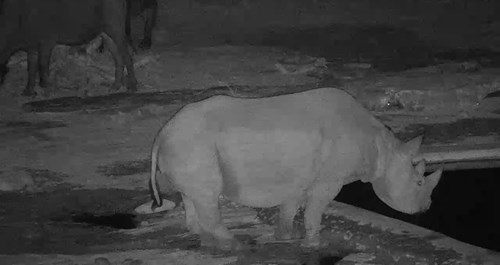 Due to successful wildlife recovery and conservation run by the Sera community, the population of black rhinos is recovering here. In 2015, ten were reintroduced into the conservancy, and within six years, the number doubled to twenty. Thanks to the determination and efforts of the community, rangers and partners, no poaching has been reported.
4) Enabling inclusive community-led conservation management 
Together with Northern Rangelands Trust, collaborators are completing a formidable new project, deploying the largest LoRa and Reserve Area Network in conservation. Real-time sensors and infrastructure is enabling the collaboration of six community-led conservancies in Northern Kenya, including Lewa Wildlife Conservancy, Borana, Loisaba, Ol Jogi, Sera and Northern Rangelands Trust. 
This programme is enabling multiple stakeholders to collaborate on cross-conservancy decision-making, bringing accountability and transparency across neighbouring landscapes on conservation activities. The technology is also helping community-led groups share information and showcase the benefits of wildlife conservation, improving the flow of information for community engagement in rhino conservation.
5)  Empowering rangers with trackers and communications devices to keep them safe
Despite their critical role in protecting our natural heritage, rangers continue to work in challenging conditions and lack the resources and support they need. Only 43% of rangers worldwide have access to a communications device on patrol. Thanks to NTT Ltd and Cisco, we've equipped over 100 rangers across our partner conservancies, with connectivity and communication devices. These allow rangers to communicate with their control room at all times, enabling them to request help and give an immediate warning of potentially harmful activity to rhinos or themselves.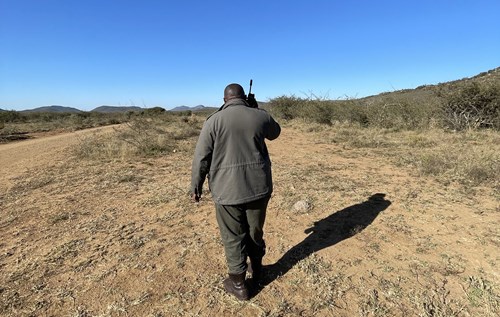 Help support collaborative rhino conservation 
Together, we've been delivering large-scale technology projects for Protected Areas since 2015. We aggregate the best tools from partners including Cisco, NTT Ltd and Airbus Foundation across nine protected areas in Kenya, Zambia and South Africa. 
A big thank you to our partners: