Saving rhinos, one birdie at a time
Inspired by an intimate moment with a rhino not long after his son was born, South African golfer, Justin Walters, talks us through his mission to unite golfers in raising crucial funds and awareness for rhino conservation.
---
Author: Emma Oldham

Strengthening the alliance between sport and nature, influential golfers, Justin Walters and Dean Burmester are providing a powerful contribution to halting the decline of endangered rhinos. Their Birdies4Rhinos fund, set up in 2017, is driving crucial funds from twenty-one golfers to Connected Conservation's rhino work, by making a donation for every birdie they score. 



"The players are doing an awesome job," said Justin Walters. "Every year the money goes to a great cause in helping to protect rhinos, supporting conservation field teams in implementing technology systems designed and supported by NTT Ltd., Cisco and Connected Conservation. I really believe in the Connected Conservation movement." 
The dangerous plight of the rhino 
Protected Areas and conservation teams need technologies more than ever to help tackle the dramatic rise in rhino poaching in 2021, escalated by the pandemic. In South Africa alone, more than 100 rhinos were poached last year for their distinctive horns - the most valuable commodity on the black market. With around 5,000 Black Rhinos left in Africa, this rate of poaching across the continent will outstrip rhino reproduction, meaning the species could go extinct in just five years. This stat is something the golfers refuse to accept.
"I was playing the Alfred Dunhill Championship at Leopard Creek, set on the river banks of Kruger, shortly after my son was born," said Johannesburg-born Walters. "I had a profound moment with a rhino. I switched off my engine and just spent time with it. It was really intimate. It struck a chord."
"I knew they were in trouble. It got me thinking about how I would love for my children to grow up and see these wonderful animals. I wanted to do something about it. Around 2-3 months later, I woke up at 4 am shouting out Birdies4Rhinos. With the help of my agent, Ally Mellor from Hype Sports Management, we made it happen."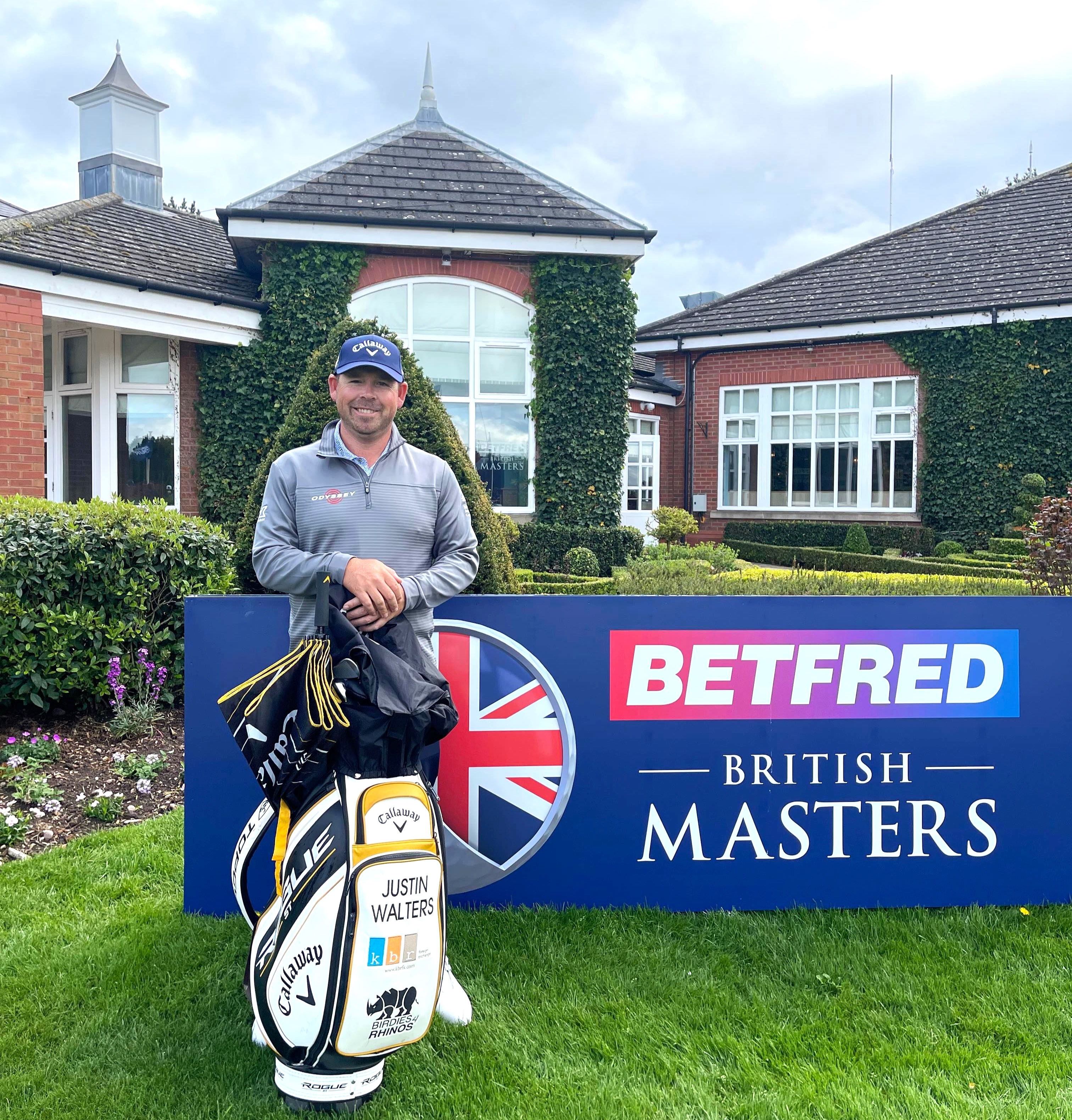 Birdies4Rhinos Founder, Justin Walters celebrates a fantastic achievement of landing tied-third with Connor Syme during this week's 2022 DP World Tour. 
Technology to help prevent poaching
In Sabi Sands, rhino populations were being decimated by poachers. The private game reserve was losing at least one rhino per week. Rangers on the ground were working their hardest, however, the constant rate and pressure of poachers diluted their resources and prevented them from stopping illegal people from entering the reserve and causing harm. Response times to potential incidents were slow.
Connected Conservation united technology partners, conservationists and wildlife organizations to deploy and support conservation technologies.
Our pilot project in Sabi Sands, South Africa, was a huge success. In the first two years, rhino poaching was reduced by 96%. The pilot project installed a wide range of donated technologies from NTT Ltd. and Cisco, including sensors, routers, switches thermal cameras and biometric scanning to form a reserve area network that protects wildlife and the rangers in charge of their safety. When the technology is coupled with excellent conservation management, response times to conservation issues have been reduced to seven minutes, from anywhere in the reserve. 
"Following the outbreak of Covid-19, the risk to wildlife is greater than ever. Reduced tourism across park reserves has seen unemployment rise and more animals killed for meat. We need to empower park reserve managers with the knowledge and tools needed to protect wildlife," said Doc Watson. 
Over the last five years, the solution has been well-sustained and is currently in its 3rd phase. New technologies are currently being installed to protect an even greater area of Sabi Sand Reserve.
"Recently Doc Watson took some of the players to visit the pilot project", said Justin Walters. "Seeing first-hand the struggles the rangers are up against, was a profound moment for them. When you're in the control room watching footage of poachers actively trespassing with the intent to kill animals, it's a really emotional thing to see." 
"It was amazing seeing the control room," said Chris Paisley, one of the most recent players to visit the pilot project. "When you see the threats to rhinos with your own eyes, it makes it all real. You realise just how bad and cruel the situation is. Seeing the technology and people working together reaffirmed my passion for wildlife conservation. Solutions are real." 
The technology is also being fostered across new community-run conservancies within the Northern Rangelands Trust Kenya. Here it is helping to reduce human-wildlife conflict and habitat degradation, improve community engagement and ensure healthy populations of black rhino, elephants, lions and cheetahs thrive.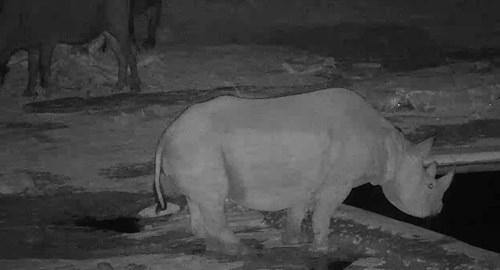 NTT Ltd. teams are designing and installing Cisco-enabled infrastructure across the region to connect a range of devices to provide real-time data and communications from remote locations. This has included joining with partner Synthetaic, and connecting live streams of high-res Wildlife Monitoring PTZ Cameras across five watering holes, to monitor wildlife health remotely during drought. This new package of infield monitoring provides a thorough view of each animal remotely - enabling quicker data and decision making in challenging times. 
Raising awareness for nature conservation
Justin Walters and Dean Burmester's conservation efforts have not gone unnoticed. Justin Rose became one of the first players to join and won the first Birdies4Rhino leaderboard, scoring the most birdies in 2016. Fellow tour pros, including English golfers Chris Paisley and Richard Bland, have also committed to the cause, and most recently, Stacy Bregman and Nicole Garcia are taking part in the Ladies' European Tour.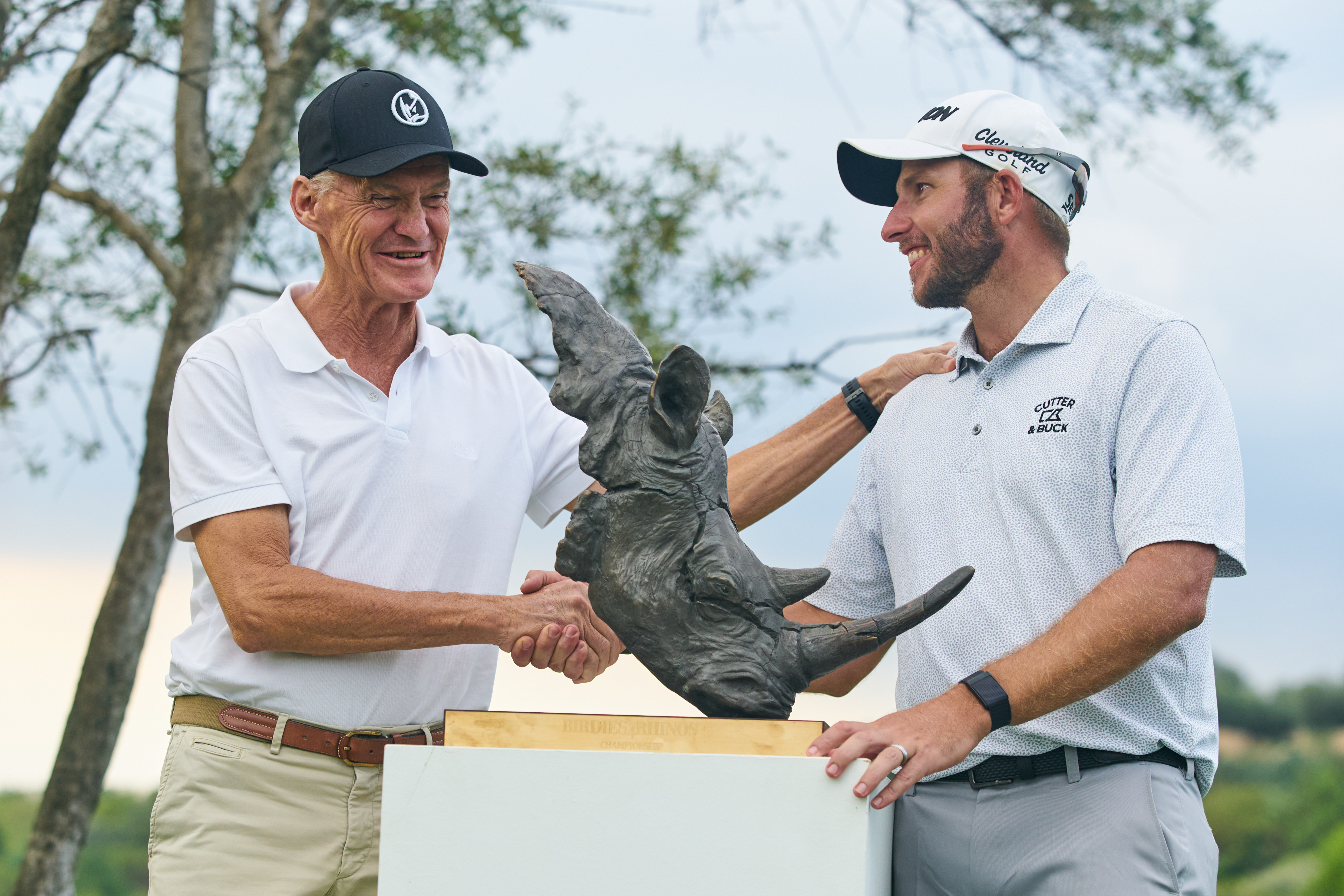 CCF's Founder, Doc Watson, presenting the Birdies4Rhino award to Dean Burmester. 
"Birdies4Rhinos is in a really good place. It's growing nicely with a mixture of female golfers, sports stars and real passionate nature-lovers" said Justin Walters. 
"We have the ability to drive a lot of awareness. We're in a different country every week. "Some of the players wear the Birdies4Rhinos logo on their shirts, have it on their golf bags, and in some cases wear the hats that we sell to raise funds. I still can't believe that most people are totally unaware of the dire situation. I think people just don't see it as a possibility to lose such a big, iconic animal."  
"It's unbelievable what Birdies4Rhinos has done in such a short time. It is a testament that protecting rhinos and wildlife is close to people's hearts" said Dean Burmester at The Belfry for 2022's DP World Tour. "Imagine how sad it would be to lose the rhino forever - one of the most iconic animals on the planet."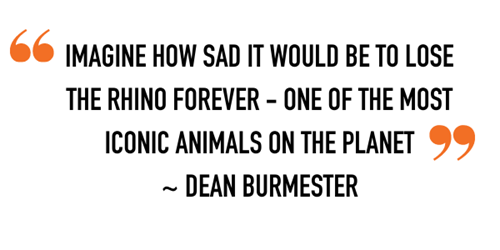 The Birdies4Rhinos team are inviting both the public and other professionals to join their mission in raising funds for this important work, to enable us to continue supporting wildlife rangers and equipping them with tools to protect endangered species. Get in touch here to join. 
CCF is grateful to Birdies4Rhinos. This collective action by the golfing industry can contribute to global efforts to achieve the goals set out in the United Nations' 2030 Agenda, which recognises sport as 'an important enabler of sustainable development'. 
We look forward to strengthening the links between the sports and conservation communities to address one of the most important challenges of our time – safeguarding our planet and wildlife. You can donate and support them here.