PRESS RELEASE: Paul Marks partners with Birdies4Rhinos to protect endangered wildlife
Paul Marks, PGA master professional, has joined forces with Birdies4Rhinos to support Connected Conservation Foundation (CCF) in their efforts to protect rhinos and their natural habitats in Africa.
---
Paul was inspired by Birdies4Rhinos founders, Dean and Justin, after watching a TV program about their non-profit organization. He decided to take action and support the cause, especially after his recent trip to Kruger park in January with his family.
"I noticed that there were no South African senior tour players on board, and I thought that was wrong. I wanted to join the team to make a difference myself," says Paul.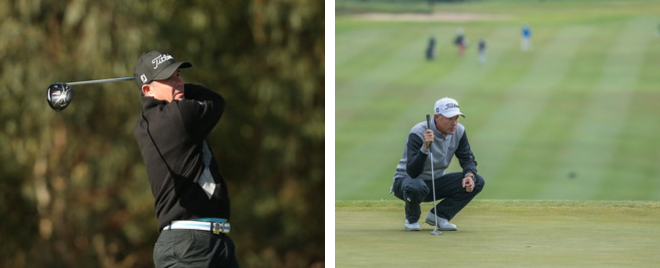 Birdies4Rhinos is a non-profit organization that was founded to raise funds to support anti-poaching initiatives in Africa - where rhinos are being heavily targeted for their horn.
New statistics from Save the Rhino report that 548 African rhinos were killed for their horns last year - with one rhino poached on average every 16 hours in 2022 .
Whilst this is an improvement from 2015 - when a rhino was killed every six hours - with fewer than 27,000 rhinos left on the planet, poaching remains dangerously high.
Professional golfers pledge donations for every birdie they make, with the funds going directly to CCF projects.The partnership with Paul Marks will bring more awareness and support to the cause, helping to protect these magnificent creatures and their natural habitats.
"I feel proud to be joining the Birdies4Rhinos team, which is helping support CCF's anti-poaching efforts by deploying teams with the best technology to help save declining rhino populations," says Paul. 
"One day, if my grandchildren can see a horned rhino in its natural habitat, I will be so grateful and fulfilled."
CCF unites partners in the donation of technologies, capabilities and resources, to equip teams at the forefront of environmental protection with transformative tools. 
"We are profoundly grateful for Paul's support," says Doc Watson, CCF Founder and Chairman. 
"It has been inspirational to witness Birdies4Rhinos's role in strengthening the bond between sport and nature. We are thankful to all players for using their platforms and professions to help protect some of Africa's diminishing and beloved wildlife."
The Birdies4Rhinos initiative encourages golfers, the general public, and sports fans to join in the fight to protect endangered African wildlife, particularly rhinos. Through their partnership, Marks and other Birdies4Rhino players hope to raise awareness and funds for conservation projects, helping to ensure a future for African wildlife.
ENDS
For more information on Birdies4Rhinos and how to make a donation, visit https://www.birdies4rhinos.org/.
About Paul Marks 
Paul's love for golf led him to join the PGA of SA in 1995, where he quickly became a qualified professional. He then went on to become a Sunshine Tour professional from 1995 to 2001, making a name for himself as a skilled and dedicated golfer. Today, Paul serves as the Director of Golf at the prestigious Private Blair Atholl Golf and Equestrian Estate in Lanseria, Johannesburg. Paul was also a Board Member of the PGA of SA from 2005 to 2018 and in 2011, he was elected as the Chairperson of the PGA of SA Board, a position he held for seven years. During his tenure, he worked tirelessly to promote the interests of golfers across the country and to ensure that the sport continued to thrive.
About Birdies4Rhinos
Birdies4Rhinos is a non-profit organization founded in 2016 by professional golfers Justin Walters and Dean Burmester. Its mission is to raise awareness and funds for conservation projects to protect African wildlife. All donations are pooled and used to fund projects conducted by Connected Conservation Foundation, utilizing cutting-edge technology from Cisco to track and prevent people from entering conservation parks with the intent of harming animals.
About Connected Conservation Foundation
Connected Conservation unites the capabilities of technology companies to equip local partners with game-changing tools for nature protection and restoration. CCF brings essential connectivity, communications and sensing devices to vast landscapes, enabling conservation managers to pre-empt and stop poaching, habitat loss and human-wildlife conflict in protected areas.