Meet change-making women in conservation technology 
On International Women's Day 2022, we're shining the light on three female leaders who are pioneering and using technology to protect our natural world.
---
Author: Emma Oldham

From camera traps to satellites and Artificial Intelligence, conservation technology is increasingly critical in helping wildlife, habitats and local people co-exist and thrive.  

In difficult times we must come together to look after each other and our shared home. On International Women's Day 2022, we give thanks to all the women joining together to contribute their valuable skills, time and energy to protect our natural world with engineering and technology. We appreciate them inspiring and paving the way for more women to follow.   
Here at CCF, we're lucky to collaborate with dedicated women who are providing leadership in conservation technology.  We've interviewed three of these leaders to gain insight into their work, with some tips on starting your own career.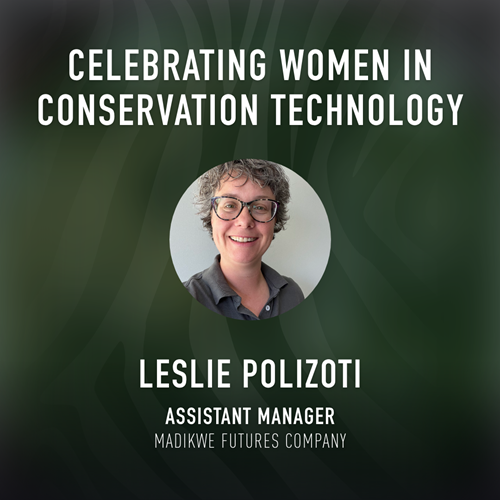 Leslie Polizoti, Assistant Manager - Madikwe Futures at Madikwe Game Reserve, South Africa 
Not all tech leaders start their careers with gadgets and data. Ex-lawyer Leslie Polizoti spent many years of her career excelling a law firm in Delaware, USA. A specialist in patent and corporate litigation, Leslie thrived in the balance of utilising her people, court and analytical skills, soon becoming a partner of a law firm.   

She liked it, but she didn't love it. Finding her true enjoyment came a little by accident, volunteering at a local zoo. Before long she was annually visiting Africa and knew it was the world for her.  
"My proudest achievement was deciding to move to Africa. I went through all the emotions," said Leslie. "I gave myself four years to explore career options and did exactly that."   
 
From March 2016, Leslie embarked on many exciting volunteering opportunities across Africa - from a wildlife sanctuary in Namibia to taking part in research projects and assisting vets across reserves. She soon picked up an internship in Kenya in the world of venomous snakes - learning how to handle and relocate them. After completing her field guide course in South Africa to become a ranger, she honed her skills in walking in dangerous areas on foot. "I loved it! At that moment I knew I wanted to learn this skill!"  
After her guiding internship in Madikwe Game Reserve shadowing rangers, she landed her current and most impactful role. Leslie now volunteers as Assistant Manager in Madikwe Futures Company in Madikwe Game Reserve.

Leslie helps this non-profit deploy and set up technology to harness anti-poaching and security across the 75,000-hectare reserve 24/7. She also utilises a range of different technologies, including satellite data, to analyse and improve the health of Madikwe's ecosystem, including conditions of roads and clearing the invasive sickle bush. Leslie also works with local communities via training and supervising staff and writing tech protocols.  
 "If you follow a good process for finding the right career, you will get a good result," advises Leslie. "You don't know what is out there until you get out there and look for it."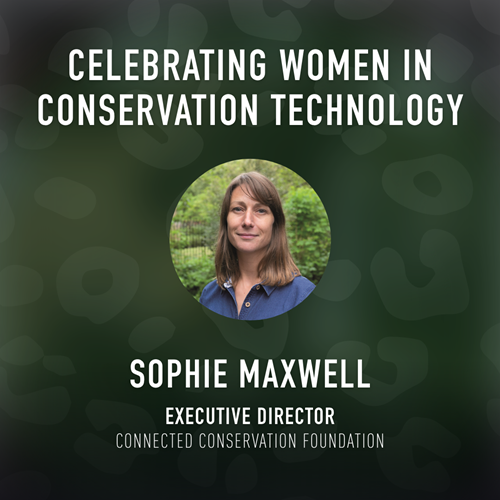 Sophie Maxwell, Executive Director – Connected Conservation Foundation   

Conservation technologist Sophie Maxwell has spent her career developing cutting-edge technology and forging collaborations across conservation, government, business and communities. Sophie first entered the technological world working as a software developer. She then took a break and travelled around the world, volunteering for field-based conservation work and often getting herself in some unforgettable moments. 
Sophie then returned to the private sector. Working as part of the Executive team of AKQA London, she led engineering teams to create innovative software products for clients including Virgin, Nike, Google, Sainsbury's and Barclays Bank. Working for eight years in this field, she decided to channel her skills into a career where her passion lay – nature and conservation.    
"I had to do something to help our planet," said Sophie. "The day after I left my job, I applied to work at Zoological Society of London (ZSL)."   
In 2015, Sophie was employed to head up ZSL's Conservation Technology Unit. She built transformative partnerships with Google, National Geographic, the Foreign Common Wealth Office and USAID to co-develop technology for big conservation challenges. Sophie advanced ZSL's Instant Wild, Artificial Intelligence for Species Detection and Instant Detect – an award-winning anti-poaching technology, which provides a satellite-enabled, multi-sensor IoT platform to monitor wildlife and threats across remote areas.   
"I'm grateful for the opportunity and privileged to learn so much from such inspirational people in this role," said Sophie.     
Collaborating with steering partners from seven international conservation organisations, Sophie also helped launch and grow WILDLABS.NET. More recently founding the WILDLABS Tech Hub that joined the U.K. government, Microsoft, Amazon Web Services, Catapults, the Open Data Institute and NGOs, to accelerate the use of artificial intelligence, satellites and technologies in tackling the illegal wildlife trade. 
Today, Sophie works as Executive Director at Connected Conservation Foundation (CCF). Sophie has helped CCF unite tech and people to roll out 3 new field projects in Africa to protect over 1,000,000 new hectares of land and over 30 threatened species.   
"I love matching people up to drive new thinking," said Sophie. "Ever since I was a child, I've loved bringing people together to solve problems."    
Furthermore, Sophie is eager to drive access to basic connectivity and communications to broaden help to as many African conservancies as possible. Whilst also driving CCF's strategy to bring connectivity, conservation collaboration and digital development opportunities to communities who are living in or around parks where CCF technology has been deployed.  
"Always push yourself out of your comfort zone. Make the leap, it will bring new opportunities," advises Sophie. "Offer to do that presentation or speak up on a new idea. It will work out."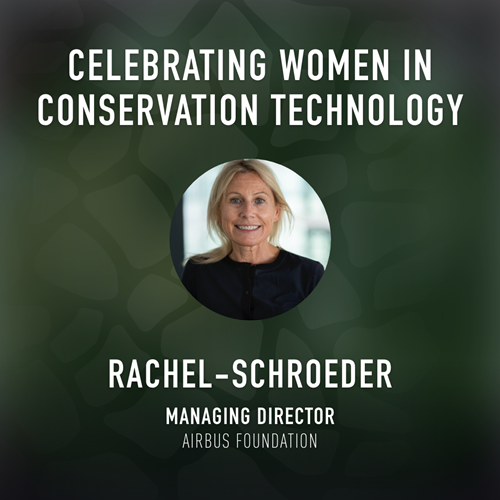 Rachel Schroeder, Managing Director - Airbus Foundation  
When you work for a pioneering sustainable aerospace company as big and ambitious as Airbus, you are most likely to stick around. With such a huge team and wealth of products, there is always room to grow, learn and move across into different departments. Rachel Schroeder has done just that. Since taking her first job interview with Airbus straight out of university, she is now in her 36th year of service.   
Rachel started her first nine years in Airbus' US offices before moving to Toulouse to become Head of Communications for the largest commercial aircraft that Airbus has built. The role involved lots of travelling and exciting opportunities – including creating a 'Fly Your Ideas' competition which challenged students to transform the world of aerospace - one of Rachel's proudest achievements.  During the next nine years, Rachel managed Employment Marketing. She worked hard on challenging and championing diversity in the tech and engineering sector to foster a better balance of gender and race working in the industry.   

"When we have diversity in our teams, we always come up with a richer result," said Rachel.   
In 2021 the wind blew once again for Rachel and she landed what she called her 'dream job', becoming Managing Director for the Airbus Foundation.  Then joining with Connected Conservation Foundation, she helped apply Airbus's high-resolution satellite imagery alongside on-the-ground digital technologies to help protect endangered species and reduce habitat degradation. Today insights from Airbus satellite technology are equipping on-the-ground field teams with new ways to improve conservation management in protected areas in Kenya and South Africa.

The partnership's first project is using Artificial Intelligence to search high-resolution imagery pixel by pixel to detect large animals. The project has already helped catch poachers. By sadly locating deceased rhinos in aerial imagery, information on the location and time of death have provided invaluable input and evidence into intelligence operations to catch criminals.   
"I've found it really amazing. I sometimes get emotional thinking how we're helping stop poaching, protecting nature and people," said Rachel. 

Rachel also steers the use of multiple Airbus technology products to help support many other environmental and humanitarian projects. These range from using satellites to map reforestation in South America to using planes and helicopters to deliver aid and support to humanitarian crises, both natural and manmade.  
"I'm not an engineer, but I see that they can do so many different things in a company – sales, marketing, HR, innovation, design and communications," advises Rachel. "An engineering background does give you a step up into many roles in a high-tech company, like Airbus."  
These interviews portray the importance of collaboration within the conservation sector. No industry alone can make as big of an impact as working together. Sophie, Leslie and Rachel unite across their current roles to deliver ambitious partnership plans, collaborating to make the greatest impact.