Connected Conservation Foundation is named as one of "100+ Biodiversity Positive Practices and Actions"
Connected Conservation Foundation proudly recognised at COP15 as one of the world's "100+ Biodiversity Practices and Actions".
---
While the world's eyes are currently on how global leaders are planning to step up conservation efforts at COP26, the 15th meeting of the Conference of the Parties of the United Nation's convention on biodiversity recently took place.
The five-day conference focused on global environmental efforts that inform the "Post-2020 Global Biodiversity Framework" and set new goals for biodiversity conservation around the world. As part of this event, we were proudly recognised in the list of "100+ Biodiversity Positive Practices and Actions Around the World".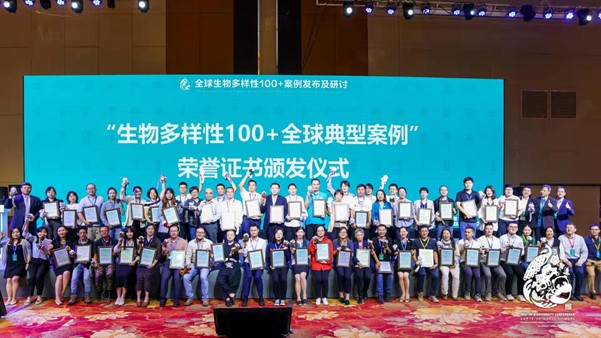 "100+ Positive Practices and Actions Around the World" certificate ceremony
We are thrilled to stand alongside other extraordinary conservation initiatives and receive this recognition. Over the last six years, the Connected Conservation team has been working hard, learning how to deploy technology effectively for species conservation. We are very grateful to our field partners and collaborators who have helped us adapt and improve to make a real difference in saving endangered species.
Inclusion on the 100+ Biodiversity Practices list highlights the positive impact of our collaborative work. NGOs from more than 26 countries submitted applications totalling more than 250 case studies. These submissions served as one way to better gather and understand the ways organisations are working together to tackle the biodiversity crisis.
As part of the application process, we shared details on how Connected Conservation Foundation collaborates with conservation partners Sabi Sands Wildtuin, Northern Rangelands Trust and Madikwe Game Reserve. Together we deploy cutting-edge technology and reserve area networks across 1 000 000 hectares for the protection of more than 30 endangered species and their habitats in these important landscapes. With five long-running projects across Kenya, South Africa and Zambia, Connected Conservation Foundation has equipped four central operations centres and more than 100 rangers with connectivity and communications solutions to help keep wildlife and people safe.
When it comes to a working model, Connected Conservation Foundation unites the resources and capabilities of local partners, technology leaders and conservationists to apply technology solutions to solve on-the-ground challenges. Launched in 2015, Connected Conservation solution founders Cisco, NTT and Dimension Data have donated funding, equipment and engineers to technology projects that seek to stop poaching, help protect ecosystems and help bring peace and security to local communities.
This year, we are proud to add contributions from new technology partners Microsoft and Airbus Foundation, alongside founding technology partners NTT and Cisco, to expand efforts to help more protected areas.
New partners are joining the collective mission to integrate their products and resources to connect field teams with effective technology. By combining platforms, data sources and devices, we can offer real-time solutions that give an early warning of where conservation issues occur, so rangers can respond quickly to safeguard species. We recently signed agreements for Airbus high-res satellite imagery with Microsoft and NTT Data's cutting-edge Artificial Intelligence and on-the-ground technology. This will bring new conservation intelligence, expanding ranger visibility and protection to thousands more square kilometres for biodiversity and their habitats.
We are proud to feature as one of the world's noteworthy conservation practices. We plan to replicate these models and successes to continue our efforts and impact.